The concept and idea of the Singapore Professional Centre (SPC), was mooted in late 1968, when Mr. John Chadwick, Director of The Commonwealth Foundation, came to Singapore and held discussions with the leaders of various professions. His idea was to merge the diverse professional organisations under the umbrella of a professional centre.
A project committee, comprising representatives from a number of professional bodies, was immediately formed to look into the feasibility of such a centre in Singapore. Two years later, with a generous grant from The Commonwealth Foundation, the Singapore Professional Centre's first Protem Committee was formed on 20th April 1970.Since its official opening by the then Minister for Foreign Affairs and Labour, Mr. S. Rajaratnam on 18th January 1971, the Singapore Professional Centre has grown from strength to strength. In 1999, the SPC launched the corporate membership drive for companies who are involved in the professional service or activities.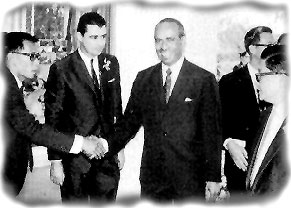 Mr S.Rajaratnam, the then Minister of Foreign Affairs, officially opened the SPC Centre on 18 January 1971
Throughout these years, the SPC has been organising seminars, exhibitions, conventions and a host of other activities, with the objective of bringing the various professional organisations in Singapore together. It has always been the SPC's aim to forge a spirit of unity and co-operation among these professional bodies, through networking and sharing of ideas. In doing so, the SPC hopes to encourage its members to contribute both to the community and the progress of the nation.
The SPC is linked to 11 other professional centres in the Commonwealth, under the umbrella organisation - The Commonwealth Association of Professional Centres (CAPC).